Garmin Adds Bluetooth Heart Rate & Running Data Broadcasting for FR245/FR945
|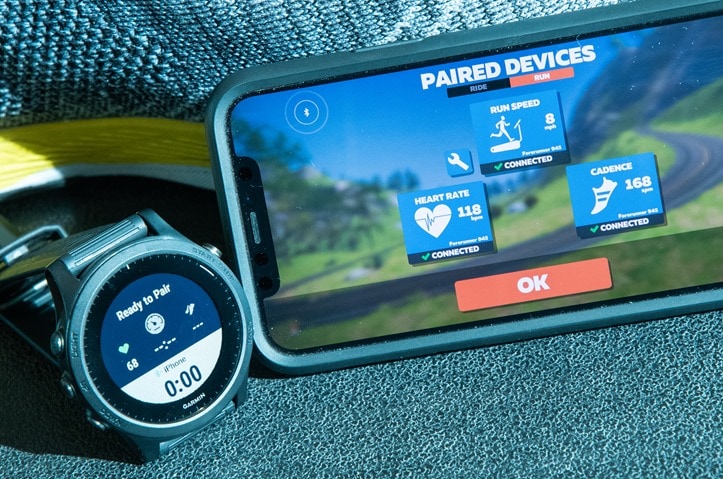 Garmin has quietly begun offering the ability for users to start re-broadcasting their heart rate over Bluetooth Smart with certain wearables, via an open beta program. While virtually all Garmin wearables made in the last…ever…support re-broadcasting of heart rate over ANT+, none have support re-broadcasting over Bluetooth Smart. In fact, almost nobody in the industry supports re-broadcasting over Bluetooth Smart (using the standard BLE HR profile). Whoop started semi-recently doing so with their latest band, and years ago Polar kinda introduced it on certain wearables (but it was fraught with odd compatibility issues that mostly made it useless).
However, todays update is a reasonably big deal. It lets you pair your wearable up to apps like Zwift or TrainerRoad, for those training indoors. Same goes for even devices like treadmills. The way it works is Garmin will now broadcast both your current heart rate but also your current pace (speed) and cadence over the standard Bluetooth Smart device protocols/standards. This is currently available in beta for the FR245 & FR945 watches. No word on whether it'll hit other watches, though my guess would be we'll soon see it on the Fenix 6 units. I wouldn't expect other older watches to get it. Again, just my hunch.
Oh – and as an added bonus on the FR245/Music & FR945 they've added Widget Glances. Woot! This was one of my favorite features on the Fenix 6 series, which condensed down the widgets into threesomes. Instead of one large widget per page, you get basically the same information of three widgets within a single page.
How it works:
First up, remember it's a beta. As such, it's not production quality which means there might be bugs. Bugs could include loss of data or your watch turning into a hamster. Probably not, but ya never know. Don't load beta software on your watch the night before a big race. To start you'll need to download the applicable version:
Garmin FR245 beta download here
Garmin FR245 Music beta download here
Garmin FR945 beta download here
Now, if you read the release notes, you'll notice that technically this is called the 'Virtual Run' indoor profile. I've gotta believe at some point they'll just add a 'Virtual

So after you get the beta installed (it only takes a second), then the watch will show you a note about adding a new sport. In this case they've added the 'Virtual Run' sport, but it won't show up by default in your list of sports. You need to go into the settings menu and add it. That too only takes a second.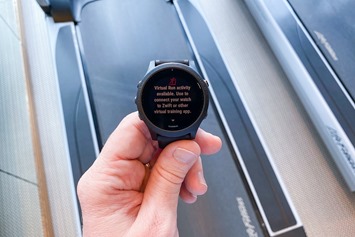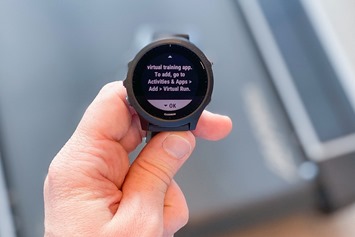 Once that's done, open up that sport mode just like any other.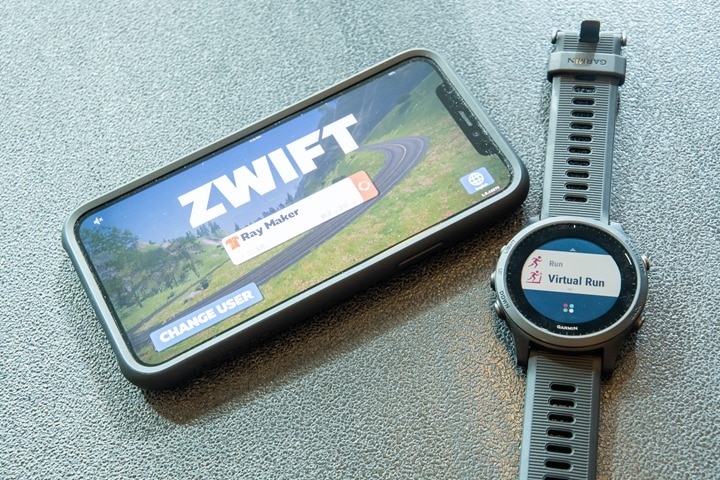 However, you'll immediately notice things are a bit different. Namely because it gives you instructions.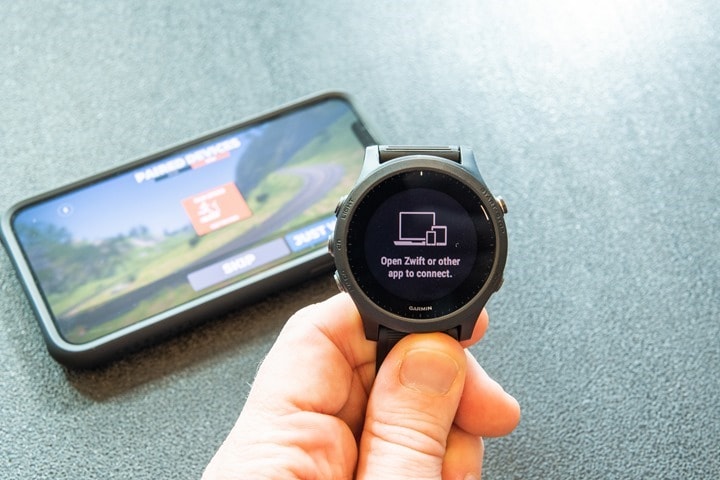 But really, it's this screen that you've never seen before: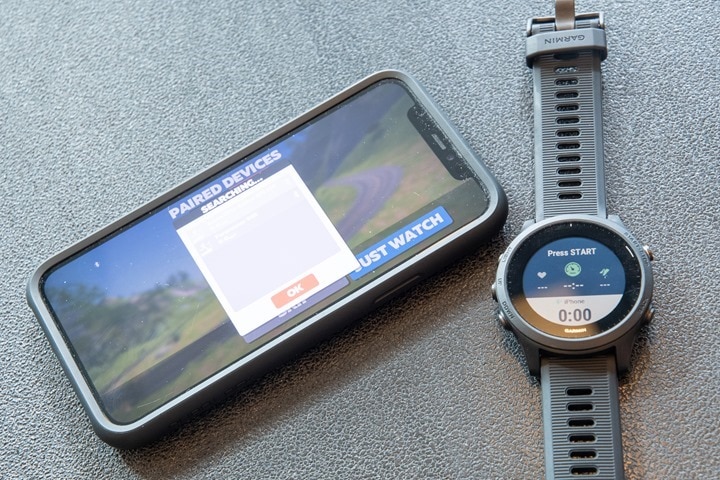 What it's showing here is your HR, pace, and cadence. But also the connectivity status to any Bluetooth Smart connected app or device. It'll state that it's ready, and then after that 'connected'.
Meanwhile, on your app – let's say Zwift Running in this case, you'll see you can pair each of the three sensor types: Heart Rate, Cadence, and Speed.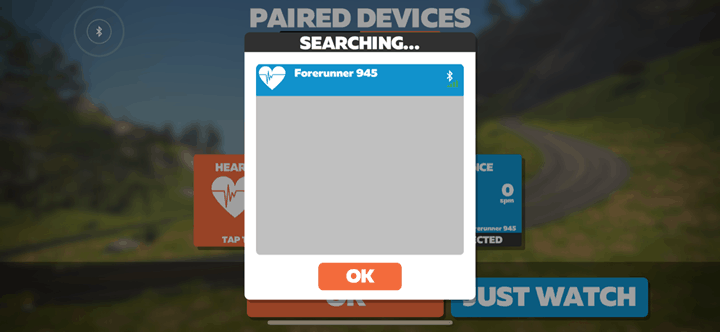 These should be funneling over a single Bluetooth Smart channel, so for Apple TV users they'll only 'cost' you just one channel for all of them.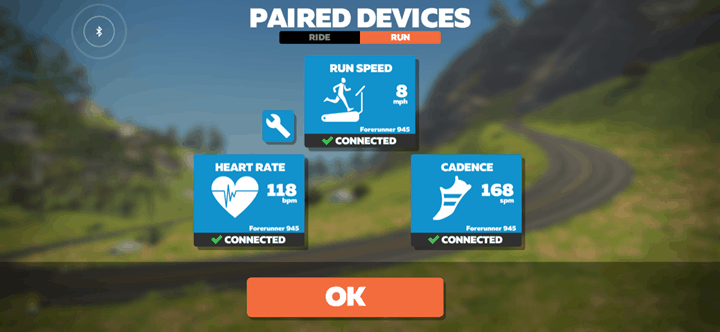 After that, you'll go ahead and start Zwift or the app of your choice like normal. You'll see your stats in real-time up on the app: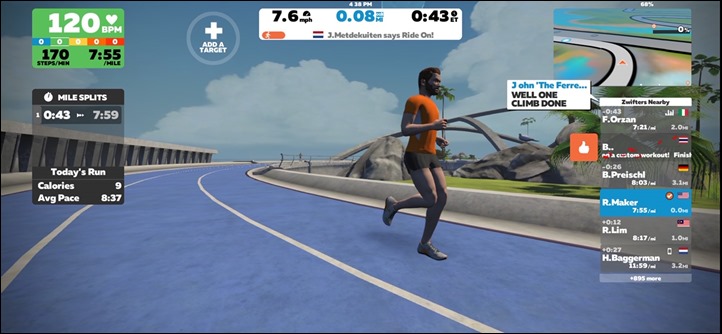 Responsiveness is the same as you'd see on your watch. Some super quick hotel testing on the treadmill indicated that initial start time (till it registered pace) took about 8 seconds. However, once running it registered subsequent pace changes in about 3-4 seconds. Which is basically the ramp speed of most treadmills anyway.
But what about the data recorded on the watch? Well, you'll want to start that too, so that it gets a recording there. Or you can ditch the recording afterwards. I'm not quite certain yet how long it'll last in paired but not started mode. Once started, it's just like a normal activity recording.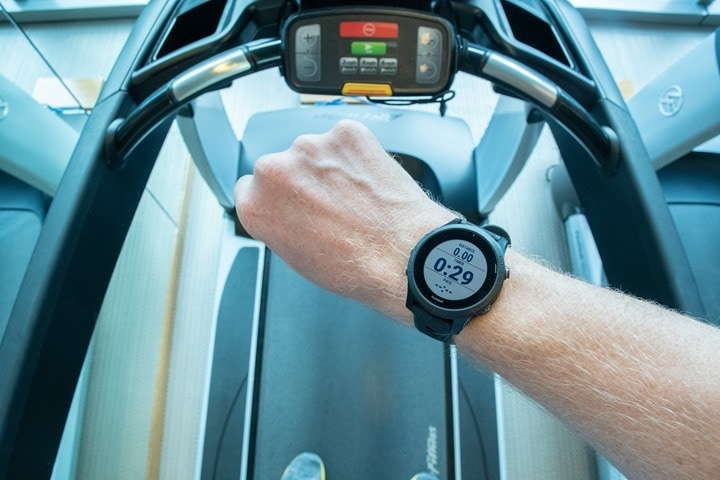 Now, what about cycling? Could you use this for Zwift or TrainerRoad in that setting? Mostly, yes. The only thing you'd do is not bother connecting the cadence or speed sensor sides of it in the app. Obviously, the title is wrong on your Forerunner, but that's a mere nit.  For example, here it is pairing in TrainerRoad in this mode: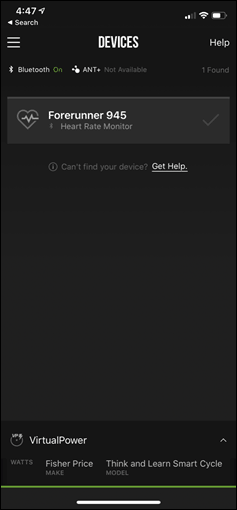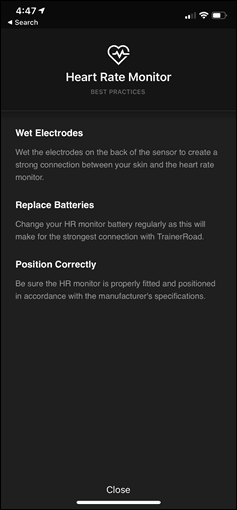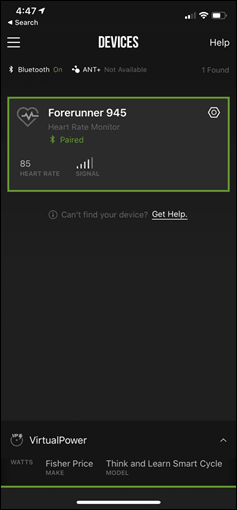 Out of curiosity, I went into the normal 'Broadcast HR' mode to see if that also now broadcasts your heart rate in both ANT+ & Bluetooth Smart. The answer: Nope.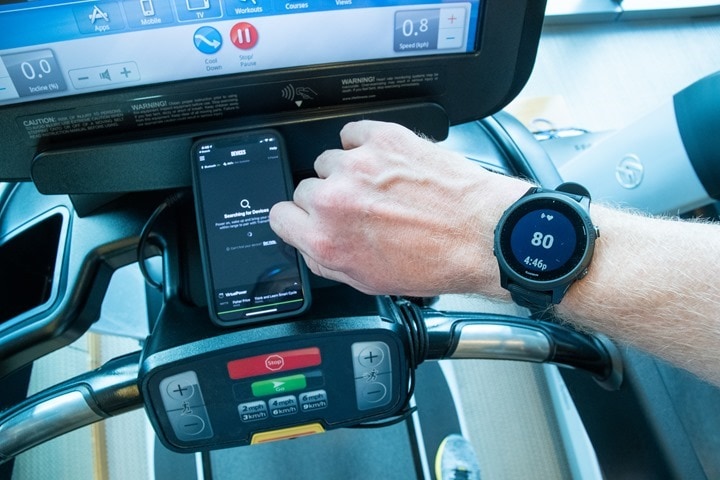 ]
No apps found it in that mode (over Bluetooth Smart).
So that is something that would round out the picture and make it easier for folks to understand. Simply have it broadcast both ANT+ & Bluetooth Smart HR when in broadcasting mode. I say 'simply', but it's plausible there's some hardware/software ramifications beyond that. Maybe when Garmin wakes up (it's 3:12AM there right now), I'll find out.
Still, it's definitely useful for both cyclists and runners today, as-is.
Wrap-Up: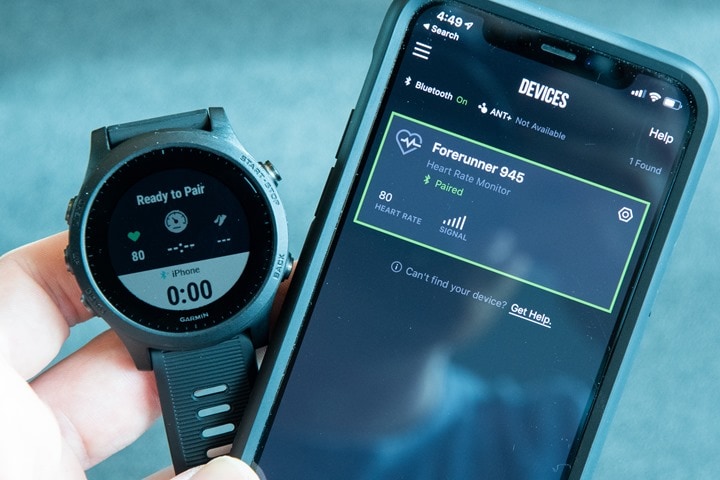 This is a sweet move. For a lot of people that end up at hotel treadmills (or any shared treadmill) and want to use Zwift Running, this quickly solve that problem without extra hardware (such as the NPE Runn or a Stryd footpod). Now the accuracy of running pace via wrist-based accelerometers can sometimes be a bit wobbly (namely when pressing buttons on the treadmill), but for the most part I've found it pretty darn close after proper outside calibration of the watch to your running stride. So that's likely good enough for most people in most situations. Or at least, better than nothing.
The bigger one of interest to me is the Bluetooth Smart broadcasting of heart rate from the optical HR sensor. That's a biggie for Zwift, TrainerRoad and other users. While I find wrist-based optical HR sensor accuracy usually pretty rough outdoors cycling, I actually tend to find it nails almost every indoor ride without much issue. So this is actually a huge win for just jumping on a bike, pairing up my watches heart rate via Bluetooth Smart to what is typically my Apple TV Zwift setup, and calling it done. Boom. ANT+ couldn't do that.
Now I'd like to see them create a similar app for indoor cycling, or just offer a simplistic way to broadcast heart rate over Bluetooth Smart in the same manner (such as enable the BLE profile within the already existing 'Broadcast HR' profile). And, atop that I'd like to see them have the FirstBeat metrics actually account for Zwift or TrainerRoad workouts pushed back to Garmin Connect (today, that training load isn't accounted for within the Garmin ecosystem). I know, I'm always asking for something. #SorryNotSorry
With that – thanks for reading!